Hover

VE Day 75:
How London Celebrated VE Day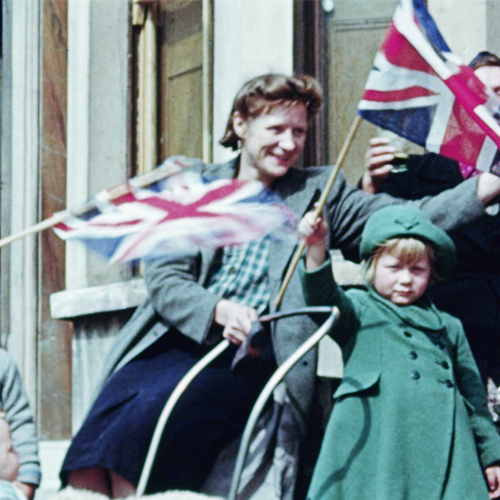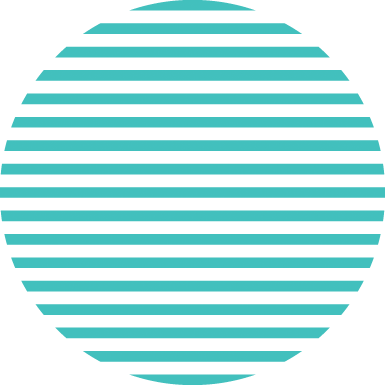 The 8th of May marks the 75th anniversary of Victory in Europe Day – the day Nazi Germany surrendered unconditionally to the Allied Forces. Whilst Imperial Japan would not surrender until the following August, there was a definite sense that the deadliest war in human history was finally coming to an end.
As Winston Churchill put it in his VE Day broadcast, "We may allow ourselves a brief period of rejoicing, but let us not forget for a moment the toils and efforts that lie ahead."
This gallery, primarily through the lens of amateur filmmakers, shows London during this brief but ecstatic time. At street parties, parades, and thanksgiving services we see the immense joy and relief felt by Londoner's, but also a deep respect for the ultimate sacrifice made by so many men and women.
Victory in the West
Courtesy of the Imperial War Museums
Huge crowds fill the streets of London, awaiting the official word of victory. Churchill delivers a speech via radio broadcast, announcing the unconditional surrender of the German High Command and declaring the day 'Victory in Europe Day'. He finishes, "Long live the cause of freedom. Long live the King." The news is met with uproarious celebration from the crowds. In Trafalgar Square and Leicester Square people jump into fountains, climb lamp posts, play instruments, and dance.
VE Day Celebrations in London (1945)
Courtesy of the Imperial War Museums
Amateur colour film shot by Lieutenant Sidney Sasson of the US Army Signal Corps, Army Pictorial Service, of victory celebrations in central London. People throw ticker tape from the windows of 33 Davies Street. Huge crowds make their way down Piccadilly, everyone wearing their best clothes. Trafalgar Square is full of people, every one of them smiling. There is an overwhelming sense of euphoria, and relief that the war is finally coming to an end. The base of Nelson's Column is obscured by the sheer number of people. Two young soldiers and two young women wade arm in arm through the Square's famous water fountain, all of them laughing joyously.
VE Day in Stratford & Royal Family Drive Past at St Paul's (1945)
Courtesy of Redbridge Museum and Heritage Centre
Portions of an amateur film shot by Sydney Francis Martin. Scenes of street parties in Stratford show a distinct sense of humour. Men carry a mock casket for Hitler, adorned with a white flag; the front of a pub with the words 'no beer' scrawled across it is shortly followed by a shot of men laughing around a cart full of barrels; and a wonderfully euphemistic sign on one house reads, 'Goodbye to all that.' Later we see huge crowds gather on Fleet Street to watch the Royal Family as it drives from St. Paul's Cathedral.
Victory Parade in Hackney and Tower Hamlets
Courtesy of Hackney Archives
Amateur film record of the Victory Day celebrations in the Bethnal Green area. The film heavily features a Victory Parade with a vast array of military vehicles including: an RAF bomb tender, bomb disposal trucks, an aircraft transporter truck carrying the body and wings of a Hawker Typhoon, a truck carrying rescue dinghies, fully loaded torpedo carriages, motor-cranes, a Women's Land Army tractor, the vehicles of various home services, tanks, heavy artillery, assault vehicles, and army cameramen with 16mm and 35mm cameras on tripods stood on their vehicles.
Childhood Memories of VE Day (8 May 1945) | Home Front Film: VE Day
Courtesy of Digital Drama
Supported by a grant from the National Lottery Heritage Fund, Digital Drama trained 35 volunteers across London to deliver reminiscence and recording workshops to gather the memories of 90 older residents in 6 London boroughs of Camden, Ealing, Hounslow, Kingston, Croydon and Merton. Working with the Heritage and Archive departments of these 6 boroughs, Digital Drama have edited WW2 childhood memories together with the archive footage to create 4 new films themed Digging for Victory, Bombs & the Blitz, Evacuation and VE Day.Project partners: London's Screen Archives, Camden Local Studies and Archives Centre, Museum of Croydon, Gunnersbury Park Museum, Merton Heritage and Local Studies Centre, Cultural Services, Royal Borough of Kingston, Clarion Futures Communities, SHINE Merton, and R3Store Studios
VE Day Street Party in Ridsdale Road, Anerley
Courtesy of Bromley Historic Collections
A VE Day street celebration documenting a joyful day for the Ridsdale Road locals in Bromley. From time to time the London's Screen Archive receives comments from members of the public, and two such comments on this film particularly stand out. One from John Sharpe – who recognised his aunty, Vera Sharpe, dancing in a paper hat; and another from Chris Barker – who recognised his sister, who would have been four at the time, singing on stage. Comments like these help us see that many people still have a direct and personal link to the events on screen.
Victory Parade on Hounslow High Street
Courtesy of the Imperial War Museums
<
Section from a longer amateur film shot by Oliver Kimberley. Here he captures the Victory Parade on Hounslow High Street. Hundreds of men and women in uniform march, as huge crowds watch from the side of the road. VE Day was certainly a joyous occasion, but in this crowd we see the immense respect for those men and women who were willing to sacrifice everything in the fight against fascism.
Victory Day, 1946
Courtesy of London Metropolitan Archives
This silent film depicts two processions and evening festivities on 8th June 1946, celebrating the British and Allied victory in the Second World War. The film shows the Royal Family leaving Buckingham Palace with the Household Cavalry for the Saluting base on The Mall. Winston Churchill and Prime Minster Clement Attlee also arrive at the Saluting base with crowds cheering and celebrating along The Mall.
Further viewing
Why not explore LSA's wartime collection; discover VE Day collections on the IWM's website (requires sign-up), the BFI Player, or the UK's other national and regional film archives via Film Archives UK.